About The Exquisite Ryokans
One inn had a dream to create a high quality accommodation to satisfy any guest's needs. Along with other inns sharing the same dream, total of 12 inns joined their efforts in 1995.
The group had high aspirations and set a goal to provide guests a peaceful stay by combining tradition with advancement and innovations. Our humble group is putting this inspiring goal into practice day after day.
The depth of Japanese culture arises from the confluence of various aspects: performing arts, design, architecture, fine arts, fashion, crafts and, not to forget, gastronomy. All these elements coming together make up its quintessence. By staying at one of our ryokans, you will easily and naturally come in contact with the very soul of Japanese culture.
You will be able to experience it not only in Tokyo, capital of Japan, but also across different regions including, Kusatsu, Izu, Shinshu, Hokuriku, Kyoto, Kobe, Miyajima and Kyushu.After a visit in each of these locations and experiencing their originality, facilities, architectural style, omotenashi spirit and remarkable cuisine, your journey in Japan will be such an incredible one that you shall never forget it.
A stay at one of the "The Exquisite Ryokans" will be the accomplishment of your odyssey in the Japanese Culture.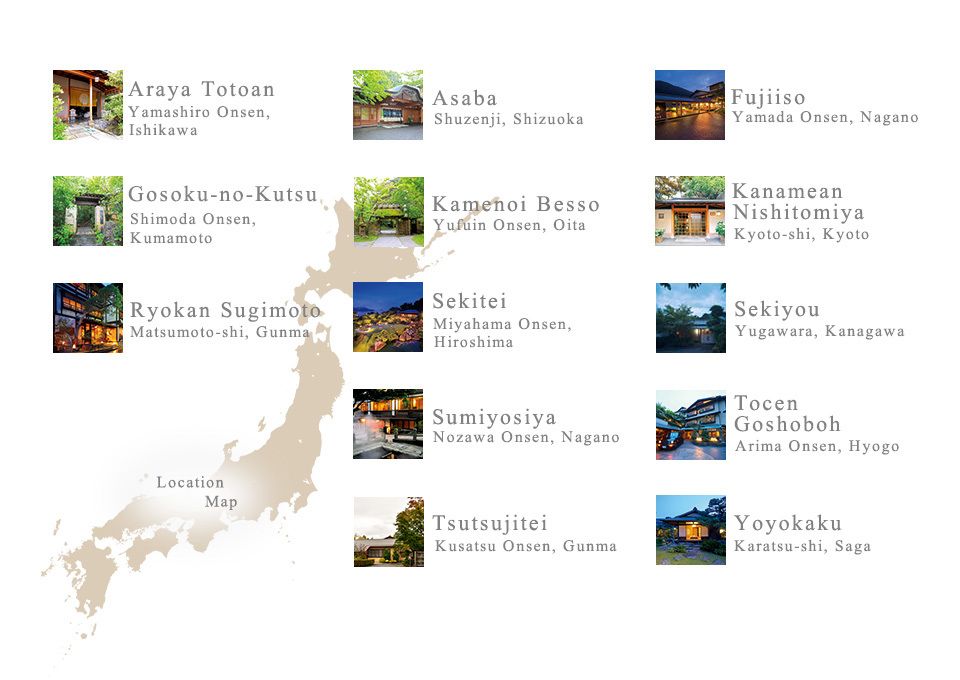 We highly value the following 12 visions.
The 12 essentials of the" Exquisite Ryokan" vision

As Japanese-style inns we are proud of this unmatched lodging culture and so formed an academic research group of world culture of inns and lodging. This group serves as an embodiment of Japanesestyle inn as well as a media for communicational purposes.
By diligently working for and innovating this great form of Japanese culture for 25 years, our each inns possess the spirit and know-how to carry on and keep evolving.


• Customer safety and peace of mind

• Customer happiness through the pursuit of high quality in everything we do

• Japanese hospitality, "omotenashi"

• Original cuisine

• Highly distinct architecture

• Inheriting, protecting and developing local culture


• Relationships with local producers and consumption of local products

• Promoting sustainability tailored to the environments of each region

• Protecting and developing ryokan culture

• Strong, close relationships with each inn

• Happiness of all people connected to each inn

• Sharing the culture of Japanese inns with the world